Paris
Learn French at LSI Paris
Famous for its rich history, stunning art and cultural diversity, Paris is one of the world's great cities. From world-class museums, art galleries and universities to the international centre of the fashion and design industry; from café culture to the cutting edge youth culture of the Left Bank and Latin Quarter – Paris is simply the most exciting place to learn French in France.
Situated in the historical heart of the city, LSI Paris is right by the Centre Pompidou and close to Notre Dame de Paris, and the sophisticated yet bohemian Marais and Les Halles districts. The school is easily accessible by Metro.Computer facilities, a common room and daily newspapers and magazines are provided for student use.
General language courses at LSI provide language training in a group environment. These programmes will improve all areas of your language skills. You can also choose to specialise in a number of different areas.
Paris – Student Life
We organise a full and varied Social programme designed to take advantage of Paris' extraordinary cultural and entertainment possibilities. Activities include guided sightseeing trips, concerts and theatre outings. Many of our activities are organised by our local partner C.I.J.P. (Club International des Jeunes à Paris)
Walking tour of the Latin Quarter (free)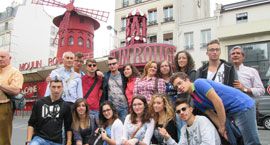 The Latin Quarter contains more history and breathtaking monuments than any other part of Paris. Visit Notre Dame Cathedral, see the world-class Sorbonne University and browse the stalls of the "Bouquinistes" – the famous book and poster vendors that line the banks of the River Seine.
Wine & cheese tasting (free)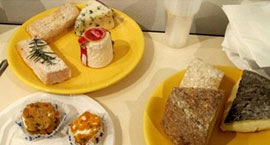 Taste some of France's most exquisite cheeses, washed down by a glass of some of France's finest wines. Explore the very soul of French culture in the most delicious way imaginable.
Traditional French breakfast (free)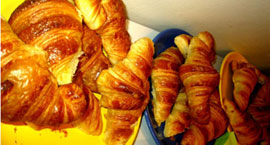 Every two months students are treated to a traditional French breakfast of fresh croissants, pain au chocolat, coffee and fruit juice during the morning break. A fantastic way to enjoy real French food and culture while making new friends and practising your French in a relaxed, friendly environment.
| | | | | | | |
| --- | --- | --- | --- | --- | --- | --- |
| MONDAY | TUESDAY | WEDNESDAY | THURSDAY | FRIDAY | SATURDAY | SUNDAY |
| Ciné Club (free) | French pronunciation workshop (free) | Dance to live music at Le Bal des Martine (€5) | Walking tour of the Latin Quarter (free) | Theatre night (free) | Weekend trip to the Loire Castles (2 days, €115) | Syrian cultural experience, including Syrian food, dance and art (€28) |
| Ciné Club (free) | Conversation club (free) | French cookery class (€15) | French pronunciation workshop (free) | Visit to the Cognacq Jay art museum (€5) | Weekend trip to Bruges & Brussels (2 days, €115) | Day trip to Giverny & Auvers-sur-Oise (€55) |
| Ciné Club (free) | French pronunciation workshop (free) | Conversation club (free) | Wine & cheese tasting (free) | Lights Of Paris evening walking tour (free) | Day trip to Vaux-le-Vicomte & Fontainebleu Castles (€65) | Day trip to Champagne (€62) |
| Ciné Club (free) | Traditional French breakfast (free) | Dinner at a Japanese restaurant (€7.50-20) | French pronunciation workshop (free) | Walking tour of the Latin Quarter (free) | Weekend trip to the Loire Castles (2 days, €115) | Day trip to Deauville & the Normandy Coast (€40) |